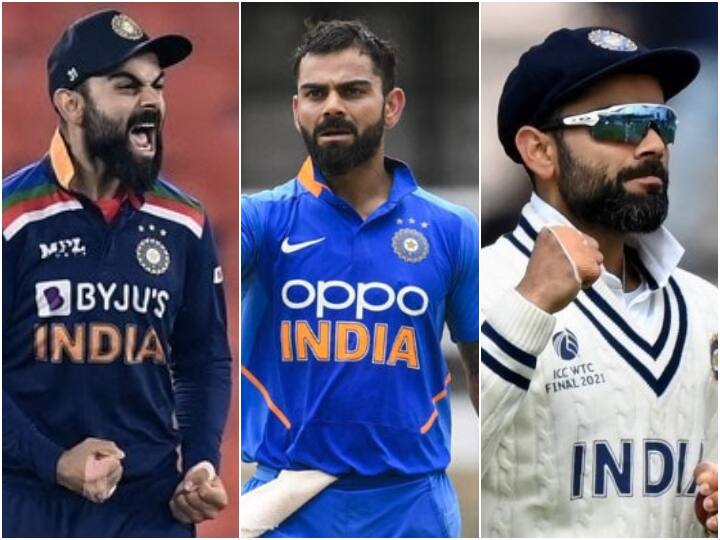 New Delhi: Legend Virat Kohli, India's most successful Test captain, on Saturday took to Twitter to announce that he has decided to quit as Indian cricket team's captain in Test format. The 33-year-old's shocking announcement comes after team India's 2-1 series loss against South Africa in the recently concluded three-match Test series.
Virat Kohli stepping down as Test captain officially brings an end to him being the captain in all three formats.
Last year, Virat had decided to step down from team India's T20 captaincy post the ICC Men's T20 World Cup 2021, after which BCCI removed him as the ODI captain and named Rohit Sharma as his replacement.
— Virat Kohli (@imVkohli) January 15, 2022
Let's have a look at when and how Virat Kohli quit team India's captaincy in all three formats-
T20 Captaincy: Virat Kohli, on 16th September 2021, took to social media to announce his decision about him quitting as T20 captain just before the T20 World Cup. Fans, critics and cricket pundits were left shell-shocked, but this did not affect Kohli as he had made up his mind and stepped down from the captaincy after the T20 World Cup. Senior batter Rohit Sharma replaced Virat as India's T20 skipper.
ODI captaincy: When Virat Kohli had announced about his decision to leave team India's T20 captaincy, he had expressed his desire to continue as captain in ODI and Test format. It was pretty clear that Virat wanted to continue as India skipper in ODI format but BCCI had some other plans as on 9th December 2021, the apex cricketing body removed him as ODI skipper and justified the move by saying they did not want to separate captains for white-ball format.
An unhappy Virat Kohli even vented out his anger on BCCI and President Sourav Ganguly in a virtual press conference ahead of Ind vs SA Test series. BCCI boss Sourav Ganguly had said that he personally asked Virat to not step down as India's T20 captain. However, Virat Kohli revealed in the press conference that "there was no prior communication" and he was "contacted one-and-a-half hour before the Test Team selection for India's tour of South Africa" about his removal as the ODI captain.
Test Captaincy: Virat Kohli, who has so far played 99 Test matches for India, on January 15 stepped down as team India's Test captain after the recently concluded three-match Test series against South Africa. Under Virat's captaincy, not only did team India defeat Australia Down Under, but also moved up from seventh place to first place in the ICC Test rankings. It will be quite interesting to see who will replace Virat Kohli as India's Test captain.