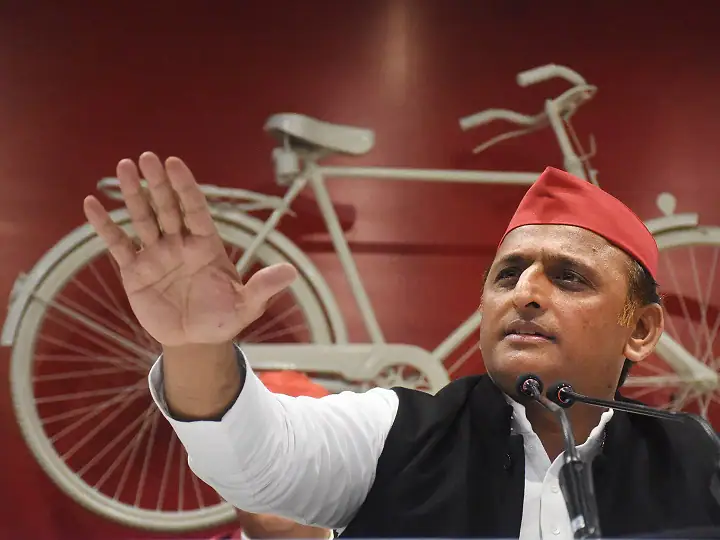 Lucknow: Taking a jibe at Uttar Pradesh Chief Minister Yogi Adityanath, Samajwadi Party chief Akhilesh Yadav on Friday said the former with his "80 versus 20" assertion meant the Bharatiya Janata Party (BJP) BJP will get 20 percent of seats while the rest 80 percent will go to his party in the upcoming assembly elections.
Yadav said the BJP would lose even this 20 percent after the arrival of former Uttar Pradesh minister Swami Prasad Maurya and others in the Samajwadi Party.
"Baba mukhya mantri (Adityanath) should engage a math teacher," PTI quoted Yadav as saying while referring to Adityanath's "80 vs 20" remarks.
Dismissing the BJP's claim of winning three-fourth seats in the 403-member Uttar Pradesh Assembly, the Samajwadi Party president said "they meant they will win three or four seats".
Yadav's remarks come as Adityanath had recently said that 80 percent supporters will be on one side in the elections, while 20 percent will be on the other, which many thought was alluding to the 20 percent Muslim population in Uttar Pradesh.
Earlier in the day, Maurya along with another rebel minister Dharam Singh Saini joined the Samajwadi Party.
Five BJP MLAs, including Bhagwati Sagar (Bilhaur in Kanpur), Roshanlal Verma (Tilhar in Shahjahanpur), Vinay Shakya (Bidhuna in Auraiya), Brijesh Prajapati (Tindwari in Bahraich) and Mukesh Verma (Shikohabad in Firozabad), also joined the Samajwadi Party.
Apna Dal (Sonelal) legislator Amar Singh Chaudhary too joined the Samajwadi Party.
The resignation of influential OBC leader Maurya, who was said to be dissatisfied with the organisation and the government for a few months, comes as a severe jolt to the BJP ahead of the Uttar Pradesh Assembly elections.
Voting for the 403-member Uttar Pradesh Assembly will be held in seven phases from February 10 to March 7. The counting of votes will be held on March 10.