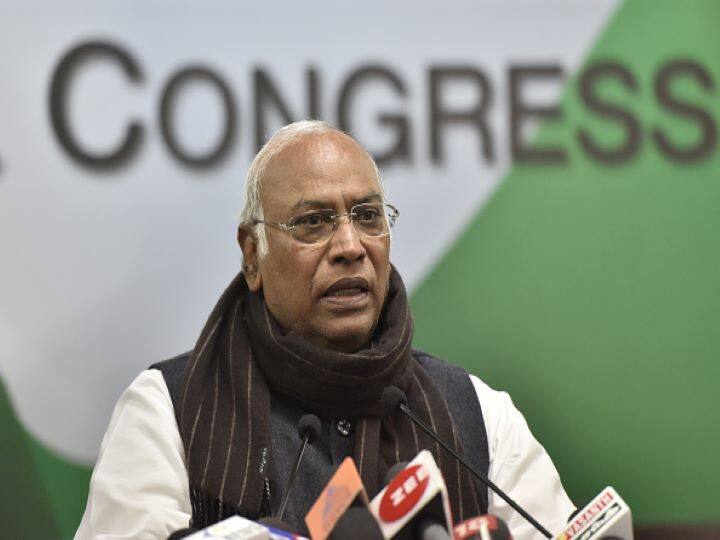 New Delhi: Congress veteran and Leader of Opposition in Rajya Sabha Mallikarjun Kharge has called a meeting of the Opposition parties on November 29, news agency ANI reported.
This comes after Congress president Sonia Gandhi on Thursday held a meeting of top party leaders to discuss the strategy for the upcoming session that will start on November 29.
ALSO READ | TMC Moves SC, Seeks Court-Monitored Probe Into Violence During Tripura Municipal Polls
In the Thursday meeting, it was decided that Congress will press for repealing the three farm laws on the very first day of the upcoming Winter Session of Parliament besides seeking Rs 4 lakh compensation for the families of those who died of COVID-19.
"In Congress Parliament Strategy Group meeting today, we have decided that we will raise a range of issues in the Parliament, including inflation, prices of petrol & diesel, Chinese aggression, and issue of J&K": Mallikarjun Kharge told ANI after the meeting.
He revealed that on the first day of the Winter Session of Parliament, Congress will raise the farmers' issues including MSP, and also demand the removal of Union Minister Ajay Kumar Mishra from the Cabinet over his involvement in the Lakhimpur Kheri incident.
"We will call up leaders of various parties as part of our efforts to bring Opposition parties together on these issues in the Parliament," Mallikarjun Kharge added.
Meanwhile, news agency PTI cited sources as saying that the Congress leadership decided to seek for the repeal of the farm laws on the first day of the session itself.
"We want the repeal of the three farm laws on the first day of the session. We will also demand a separate law for minimum support price," a senior leader told PTI.
The Congress leadership has also decided to raise the issue of price rise and it was said that the party will press for the demand for seeking Rs 4 lakh compensation for all victims of COVID-19.
The Union Cabinet has approved a bill to repeal the three contentious agrarian laws following Prime Minister Narendra Modi's announcement on November 19. It will be introduced in Lok Sabha during the Winter Session.
Meanwhile, the Union government's agenda for the winter session includes 26 new bills including legislation on cryptocurrency besides the bill to repeal three farm laws.
(With Inputs From Agencies)