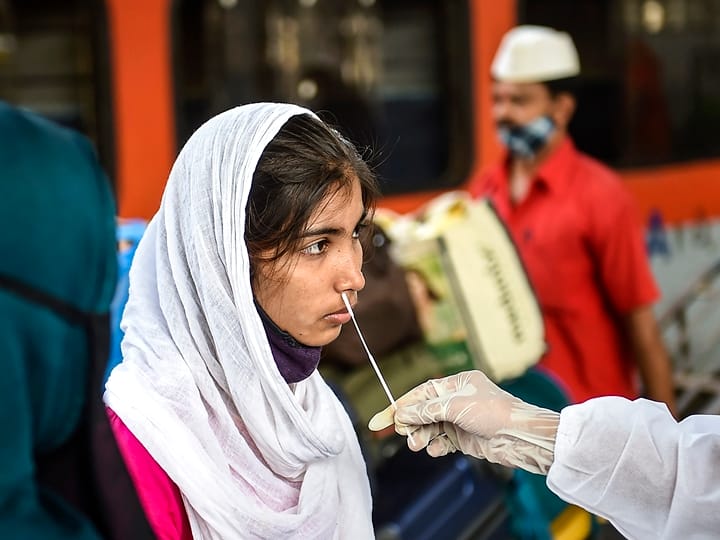 New Delhi: Maharashtra on Saturday recorded 42,462 new Coronavirus cases and 23 fresh fatalities. Meanwhile, the active caseload stands at 2,64,441.
The state also reported 125 new cases of the Omicron variant of coronavirus, raising the overall count to 1,730.
Notably, the state's capital city Mumbai has logged 11 new coronavirus-related deaths, the highest single-day toll since July 29 last year, and 10,661 fresh infections.
ALSO READ | Maharashtra: Delta Variant More Dominant Than Omicron During Third Wave — Know Numbers Here
With the latest additions, Maharashtra's tally of COVID-19 cases jumped to 71,66,740, while the death toll climbed to 1,41,779.
Maharashtra's positivity rate is 21.13 per cent, the official said.
In terms of Omicron infections, of the 125 new cases, 39 were reported from Nagpur, 24 from Mumbai, 20 from Meera Bhayandar, 11 from Pune Municipal Corporation, 9 from Amaravati, 5 from Akola, 3 from Pimpri-Chinchwad industrial township.
Aurangabad, Jalna, Pune Rural, and Ahmednagar reported 2 Omicron cases each. Nashik, Kolhapur, Latur, Satara, Thane MC, and Wardha logged one case each.
COVID Cases Continue To Decline In Mumbai
According to the Brihanmumbai Municipal Corporation's (BMC) data, the number of newly infected patients has been decreasing for the last three days in Mumbai. 
Mumbai on Saturday reported 10,661 fresh infections. However, the city also logged 11 new coronavirus-related deaths, the highest single-day toll since July 29 last year.
Meanwhile, as many as 21,474 patients were discharged, taking the total of recoveries to 8,99,358.
722 patients were admitted to hospitals, taking the number of hospitalised COVID-19 patients to 5,962.
Mumbai had reported 16,420 new COVID-19 cases on Wednesday, 13,702 cases on Thursday, and 11,317 on Friday, showing a steady decline.
The caseload in the country's financial capital rose to 9,91,967, while the death toll reached 16,446.
According to the BMC's statement, Mumbai's recovery rate is 91 per cent while overall case growth rate between January 8 and 14 was 1.56 per cent. The caseload doubling rate is now 43 days, which was 39 days on Friday.
(With Agency Inputs)
Check out below Health Tools-
Calculate Your Body Mass Index ( BMI )