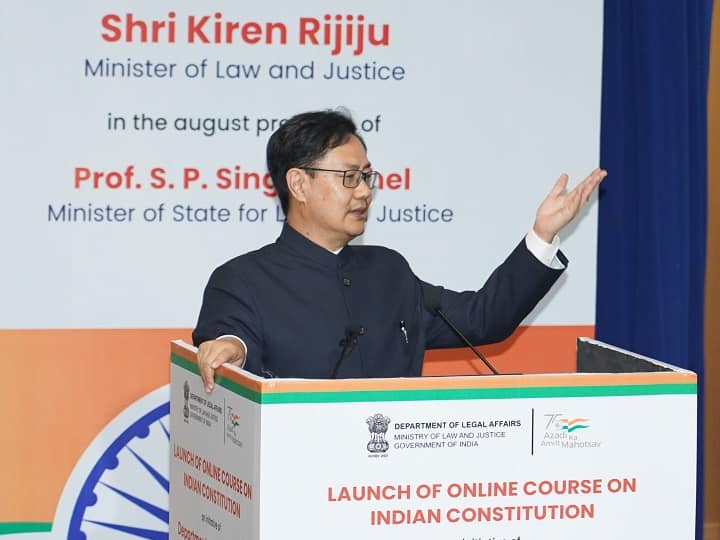 New Delhi: Law Minister Kiren Rijiju on Thursday expressed his concern over "disturbing elements" who oppose constitutional and legal decisions. He added that it has become a "fashion for some elements to say that they do not accept the constitution and it is not in their favour."
Rijiju was speaking at the launch of an online course on the constitution at the National Academy of Legal Studies and Research (NALSAR). The event took place on the eve of Constitution Day 2021.
"When Parliament passes a bill or when assembly adopts certain laws, until or unless it is unconstitutional, why should there be a reason to say that we don't follow this Act, or we will not follow this law," the minister said.
I'm happy to launch an Online Course on the Indian Constitution from Ambedkar Bhawan, New Delhi.
https://t.co/k78ifXZvs6#CSC #DigitalIndia #TeleLaw #ConstitutionDay pic.twitter.com/fjHKoKAPta

— Kiren Rijiju (@KirenRijiju) November 25, 2021
The statement comes in the backdrop of the upcoming winter session of the parliament where the government is set to pass the bill to repeal farm laws.
On Friday, November 19, the Prime Minister had announced the repealing of the farm laws after a year-long protest by the farmers on Delhi's borders. 
"If (an) Act is constitutional or unconstitutional, let the judiciary decide," Rijiju noted. Emphasising the importance of the judiciary, the law minister asserted that until the judiciary decides that a law is "this way or that way, why should we try to impose our thoughts and our ideas on others."
"India is a very democratic country so we have the right to oppose, right to differ in opinions. We have the right to dissent. But anything which has been done constitutionally must be respected by all," he added.
"In cities, we don't realise it, but as we go deeper, there are certain elements which are emerging… it is very disturbing… that anything which is legal, lawful, constitutional is being opposed tooth and nail," Rijiju explained.
"What I am saying is that when it is already a law, how will you say that a law has been framed, but it is not implementable. Is it not some kind of a crisis for the country," he added.