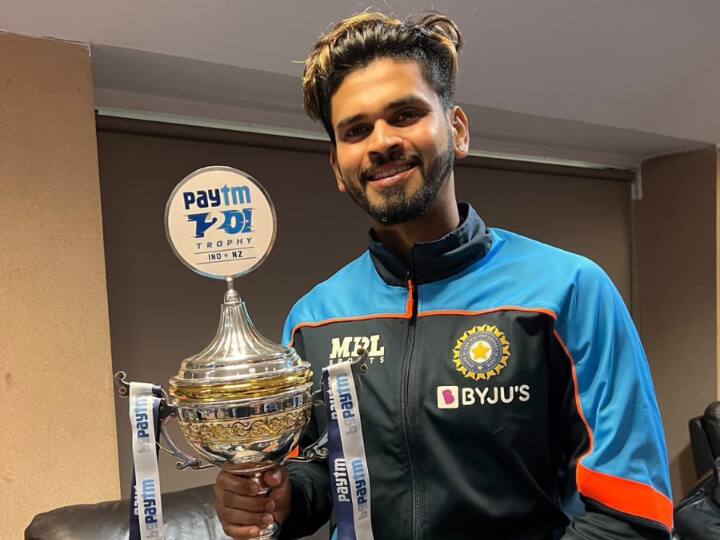 New Delhi: Debutant Shreyas Iyer's hard-fought 75 not out, his 113-run solid stand with all-rounder Ravindra Jadeja (50 not out) put India on top at Stumps on the opening Day of Ind v NZ 1st Test at Kanpur's Green Park Stadium on Thursday. Iyer yet again proved why he is a great asset to the national team as he scored a heroic fifty to help India revive after a major collapse.
Interestingly, Shreyas Iyer's father Santosh has not changed his WhatsApp DP for the last four years, news agency PTI reported. Iyer's father's Whatsapp DP shows with his talented son holding the 2017 Border Gavaskar Trophy in his hand. The reason behind this is that Mr Santosh always wanted to see his son play white-ball cricket for India. His dream finally came true on Thursday when Shreyas made his Test debut against New Zealand.
"Yeah, this DP (of Shreyas holding Border Gavaskar Trophy) was always close to my heart because when he was playing against Australia, he was a stand-by in place of Virat Kohli, in Dharamshala," Santosh told PTI.
"So that time after winning the match, they (team-mates) handed over the trophy to him (Shreyas), just to hold it, so that moment was very prestigious for me." Shreyas, who comes from Mumbai's Worli area, showed a lot of composure and class during his stay in the middle as India ended the day on 258 for four.
"Shreyas holding the (BG) trophy and I literally wanted him to play for India at that moment. And I was thinking on those lines, like when will he get an opportunity to really be in the team and perform in the Test match.
"So, when Ajinkya Rahane declared that Shreyas is going to play, that was the happiest moment in my life, more than getting selected for any other (format) IPL or one-day, this was very prestigious for me (as) this is a real form of cricket.
"Sometimes when I spoke to him, I told him you should play a Test and he (had) said it will happen very soon and it happened and I was on top of the world," said Santosh.
Shreyas was handed his cap by the legendary Sunil Gavaskar and his father termed the moment as a proud one.
"Sunil Gavaskar is one of my favourite cricketers and it was absolutely a proud moment. It is a great moment. I don't have words to express (the joy)," Iyer senior signed off.
(With Inputs from news agency PTI)