High levels of chemicals could pose long-term risks at Ohio train derailment site, researchers say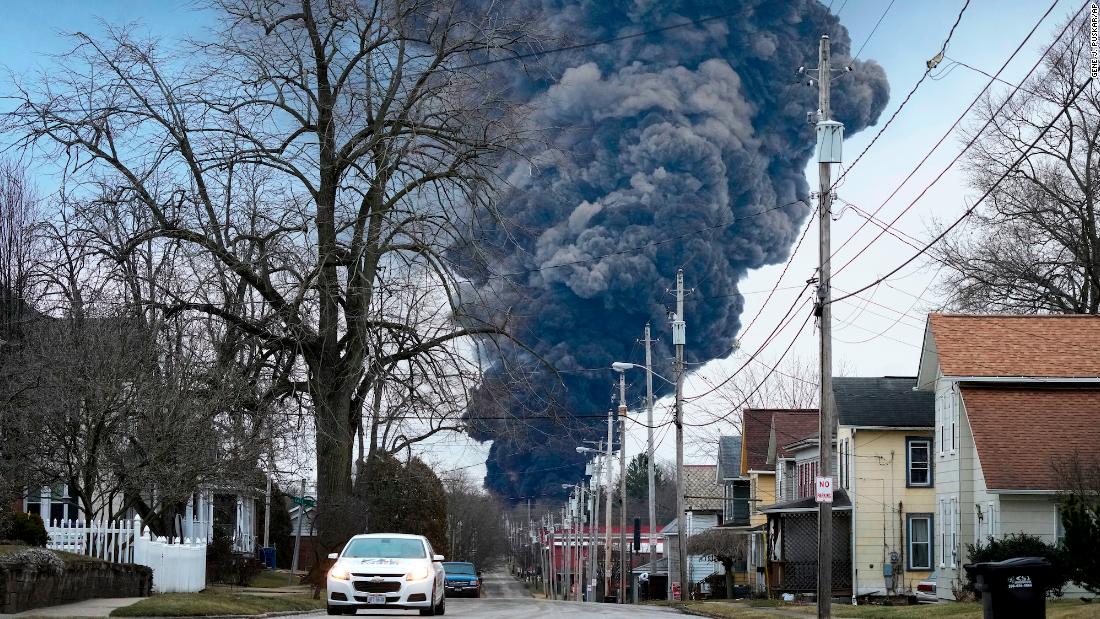 If the levels of some of these chemicals remain high, it could be a problem for residents' health in the long term, the scientists say. Temperature changes or high winds might stir up the chemicals and release them into the atmosphere.
The highest levels found in East Palestine were of a chemical called acrolein, the analysis says.
Acrolein is used to control plants, algae, rodents and microorganisms. It is a clear liquid at room temperature, and it is toxic. It can cause inflammation and irritation of the skin, respiratory tract and mucous membranes, according to the
US Centers for Disease Control and Prevention.
"It's not elevated to the point where it's necessarily like an immediate 'evacuate the building' health concern," said Dr. Albert Presto, an associate research professor of mechanical engineering at Carnegie Mellon's Wilton E. Scott Institute for Energy Innovation, who is working on the university's chemical monitoring effort in East Palestine. "But, you know, we don't know necessarily what the long-term risk is or how long that concentration that causes that risk will persist."
Much of what scientists know about chemical exposure comes from people's contact with chemicals at work, Preston said, which generally means exposure for about eight hours a day. People now living in East Palestine are in constant contact with the chemicals, he said, and the impact of that kind of exposure on the human body is not fully understood.
EPA's air monitoring data shows that levels of monitored chemicals "are below levels of concern for adverse health impacts from short-term exposures," an agency spokesperson told CNN on Monday. "The long-term risks referenced by this analysis assume a lifetime of exposure, which is constant exposure over approximately 70 years. EPA does not anticipate levels of these chemicals will stay high for anywhere near that. We are committed to staying in East Palestine and will continue to monitor the air inside and outside of homes to ensure that these levels remain safe over time."
However, residents have reported rashes and trouble breathing, sometimes even in their own homes, Presto said.
"When someone says to them then, 'everything is fine everywhere,' if I were that person, I wouldn't believe that statement," he said.
So who's right? The scientists say it's not a black-and-white issue.
Rusyn says the EPA and local officials need to do a better job of communicating with the public about the risk to residents when they are exposed to chemicals released in the crash.
Communication struggles have been a consistent pattern over the years and over numerous environmental disasters, he said. Officials will often do a good job of collecting and releasing data but then fail to give the proper context that the public will understand.
"That's what I would like to encourage all parties to do rather than to point fingers," Rusyn said. "The general public has to trust authorities. Cleanup is continuing. They are doing monitoring. We just need to do a better job communicating the results."
Government communication about residents' real level of risk has been a significant source of frustration in East Palestine, Presto said.
"People are furious. They feel like they're getting this black-and-white answer — things are safe or not safe — when it's not a black-and-white sort of situation," Presto said.
The EPA says it will continue to monitor the air quality in the area and in residents' homes. It is also setting up a community center so residents and business owners can ask questions about agency activity there.
The EPA also collected field measurements for hydrogen sulfide, benzene, hydrogen cyanide, hydrogen chloride, phosgene and particulate matter.
Scientists from Texas A&M and Carnegie Mellon are monitoring the chemicals in the area using a mobile lab that they've used for the past decade to measure air pollution in real time in cities across the country. They expect to release data from their own tests in East Palestine on Tuesday.
The mobile lab has extremely sensitive equipment that can measure pollution in the parts per trillion. Scientists would then be able to plot them on a graph to show, in real time, where the concentrations of chemicals may be and at what level, Presto said.
"The situation has to be monitored, and the EPA should continue measurements, and they should also communicate to the general public as to what they're seeing and put this into context of risk, rather than use the numbers and expect people to figure it out for themselves," Rusyn said.