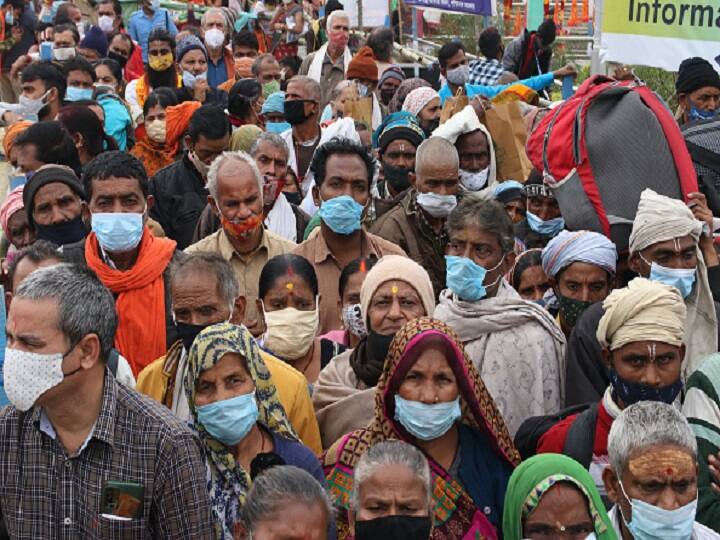 Kolkata: Despite the massive surge in daily Covid-19 caseload and jump in positivity rate, lakhs of devotees arrived at Sagardwip in West Bengal where Gangasagar Mela is underway, to take the holy dip on the occasion of Makar Sankranti undermining the Coronavirus safety protocols. 
Devotees thronged to Gangasagar Mela on Friday and Saturday with a number of them seen roaming without masks and government officers had a harrowing time enforcing the Covid-19 norms, news agency PTI reported.
ALSO READ | West Bengal Issues New Guidelines For Marriages, Fairs. Covid Curbs Extended Till Jan 31
However, Bengal Power minister Aroop Biswas said that this year the number of pilgrims is around 20-25 per cent less compared to last year's congregation. Around 15.5 lakh pilgrims had arrived at Sagar Island during Makar Sankranti in January 2021.
An official said that as of now more than five lakh pilgrims have taken their holy dip.
The Gangasagar Mela is considered to be the biggest religious congregation after the Kumbh Mela. 
Locals present at the fair told PTI that physical distancing norms went for a toss during the dip even though disaster management and civil defence personnel, the police and volunteers maintained the Covid-19 protocols. 
Several pilgrims were seen without masks even though officers and volunteers kept cajoling them to abide by social distancing norms and to wear masks. Even the devotees and sadhus flashed the V sign after taking the holy bath.
"After I took a dip in the Ganga, all my sins have been washed away and the virus can never touch me," said a pilgrim standing in waist-deep water.
"There is a saying "Shob teertha baar aar, Gangasagar ekbar (You can visit other pilgrimages several times, but Gangasagar you can come only once). The visit to Gangasagar suffices for the hardships that pilgrims face while coming here. I feel energized after the dip. I am not afraid of COVID-19 or any other virus," another pilgrim told the news agency.
Keeping in mind the rise in Covid-19 cases, health experts were apprehensive that Gangasagar Mela might turn into a super spreader at a time when the Bengal government is grappling with curbing the spread of the highly contagious Omicron variant. 
ALSO READ | Alwar Case: Rajasthan BJP Demands CBI Probe After Medical Report Rules Out Rape
The holy bath ended at 12:30 pm on Saturday.
RT-PCR tests were carried out as part of the measures to check the spread of the disease. According to reports, only those who were fully vaccinated and tested negative for Covid-19 were allowed to enter Sagar Island.
Officials informed that only one pilgrim was confirmed as Covid positive in the random testing before entering the Mela ground and was sent to isolation.