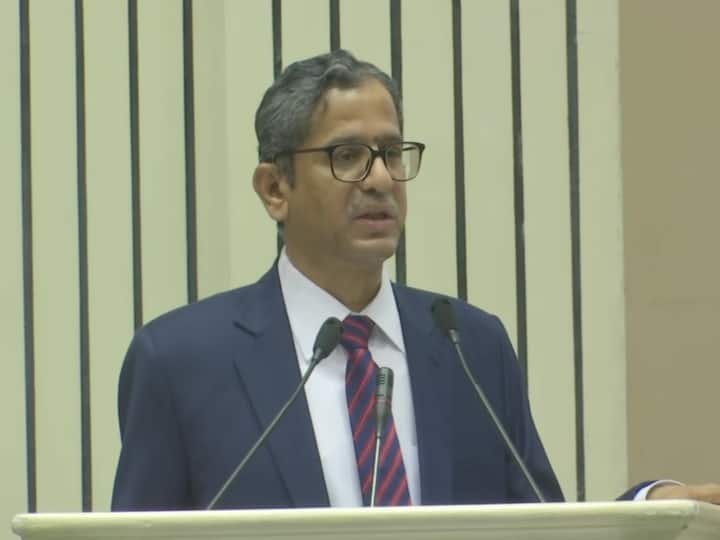 New Delhi: Calling upon the lawyers and judges as part of one large family, Chief Justice of India (CJI) NV Ramana on Friday urged them to protect the judiciary from 'targeted and motivated attacks'.
Addressing an event organised by the Supreme Court Bar Association on the occasion of Constitution Day, CJI Ramana said, "I want to tell all of you, that you must assist judges and the institution. We are all ultimately part of one large family. Protect the institution from motivated and targeted attacks. Do not shy away from standing up for what is right, and against what is wrong."
Terming lawyers as people having an intimate knowledge of the Constitution and law, CJI Ramana said that it is their responsibility to educate the rest of the people about their role in the society.
He also highlighted the most important feature of the Constitution and said that it provides a framework for debate. "It is through such discussions and debates that a nation progresses, evolves and achieves higher level of welfare," the CJI said.
In his speech, CJI Ramana paid homage to freedom fighters and members of the Constituent Assembly, who gave the Constitution to people of India.
CJI Ramana acknowledged the contributions of various people towards making the Constitution an organic document. 
"While celebrating the day and paying homage to the freedom fighters and the framers of our Constitution, I think it is important for us to celebrate the citizenry of Independent India. It is their actions over the past seven decades – the litigants, lawyers, legislators, judges, businesspersons, workers and others, that has breathed life into what might have been just another bare document," the CJI said in his speech.
Judges of Supreme Court, SCBA President Vikas Singh and Solicitor General Tushar Mehta also attended the event on Friday.